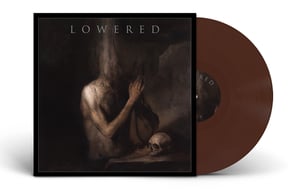 €

15.00
PRE-ORDER COLLECTOR'S EDITION
This edition is exclusive to Throne Records mailorder.
• PRE-ORDER NOW: 15.00 €
• If you order after release date: 16.00 €
• 140gr. opaque Brown vinyl
• Limited to 75 hand-numbered copies worldwide
• 350gr. full color printed sleeve
• 200gr. full color printed insert
• Polylined black-inked paper bag
• Outer plastic bag
No limit of copies per buyer.
Production is already on course. Expected to be out and shipping by mid September 2018.
BAND LOWERED (US)
TITLE Lowered
CAT. # TR82
RELEASE DATE September 2018
FORMAT VINYL LP
RUNNING TIME 31 minutes
FILE UNDER Black Metal / Doom Metal
DETAILSCrushing female-fronted Blackened Doom delicatessen. Hailing from Portland, OR., Lowered rised mysteriously from the shadows and crafted one beast of a debut album.
"The highlight here is the excellent frozen guitar parts that really pull all the elements together. Good ugly recording with proper low end and to sum up: 2 thumbs up from me!".
— RYAN LIPYNSKY (Unearthly Trance / The Howling Wind / Force & Fire / Serpentine Path, etc.) —